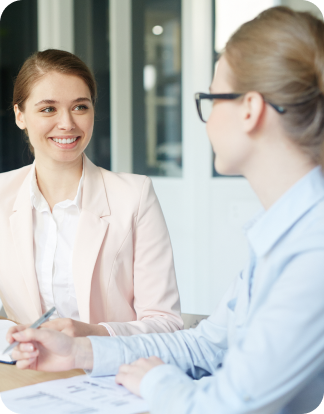 Professional services in the field of HR services
Rychetsky & Partners is a company providing comprehensive human resources and management consulting.
Our aim is to provide our customers with qualified advice in the field of recruitment, outplacement, career counselling, interim management, HR outsourcing, employment issues, remuneration and employee development based on proven methodologies and knowledge.
Our employees are qualified HR professionals. Among other things, we also deal with team consulting.


April 2008
Founding of the company by Blanka Rychetská

November 2009
The addition of another partner Alice Zentrichová

January 2014
Change of partner after Blanka Rychetská's departure

January 2014
Company name in honour remains the same

April 2023
Alice Zentrich becomes 100% owner of the company
Bc. Alice Zentrichová has practical experience in HR management from international companies and consulting firms. Her specialization is recruitment and headhunting. She also focuses on training management, setting up HR processes, outplacement, setting up processes and organizing training assessment centers and career counseling.
Currently, she is a senior consultant at Rychetsky&Partners. She studied International Management with a focus on HR and Psychology at HES in Amsterdam.
She started her career at PriceWaterhouseCoopers as a Training Manager, where she worked closely with the HR department on recruitment, assessment centres and HR process support.
She also worked as HR Director at Mediaonline in Moscow, where she was responsible for recruitment, setting up HR processes, remuneration and employee benefits and outplacement. For more than fifteen years she worked in Germany, Italy, Greece and Russia. She is fluent in English and German and has active Italian and Russian.


Quality Selection of Candidates

Contact
E – mail: info@rychetsky.eu
Tel.: +420 775 440 094
IČO: 28207572. Company registered by the Municipal Court in Prague, Section C, File 132764
Rychetsky&Partners 2023