We will be happy to find employees for you from our database, by advertising or by direct contact. We focus on positions in the fields of administration, finance, IT/Telco, customer service, financial institutions, manufacturing, technical specialists, pharmacy and more. We work in all regions of the Czech Republic.
Interim Recruitment
Interim recruitment service is aimed at clients who do not have their own specialists and/or recruitment know-how, but supply their own candidates. You supply the CVs, we supply the professional services, including candidate selection, candidate requirements and an effective selection process. The advantage here is a significantly cheaper price, where the client only pays a fixed amount.

The service offers a strategic approach to recruitment. We actively seek out passive candidates who are often employees of competing companies. This increases the chances of attracting qualified candidates. Through methodical sourcing and sophisticated candidate assessment, we offer efficient selection. Thanks to our specialisation and network of contacts, we can find the best candidates in a very short time. This service also minimises the risk of recruitment failure and ensures rapid integration of new employees. Candidates have the advantage of industry and product knowledge and have contacts. In the long run, headhunting can bring you highly skilled employees and improve the quality of your team, which is a key factor in the success of your company.
Connect with us and discover the power of headhunting for company growth and success.
Are you a recent graduate looking to start your career? Or are you looking for a new, suitable job and would like to discover what you are really talented at? Take advantage of our career counselling service. You will get a realistic view of the job market and, with the help of the results of psychological testing, you will know your psychological portrait as well as your qualities and talents.
We will recommend you a career area according to your profile, describe how the labour market works and how and where to look for a job (interesting fields, companies that are recruiting, etc.). We will also help you write your ideal CV and show you samples of job descriptions.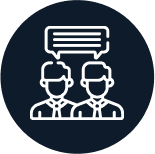 With our own methodology and experience, we can advise employers on the entire process. We provide communication to employees, consultation on the possibilities of individual employees on the labour market, care for specific groups, e.g. early retirement, etc.
If necessary, we will offer our clients employment law advice for major organisational changes. The service may also include assistance with registration at the employment office.

Team consultancy
for companies

Team consultancy
for sports teams


Audit of personnel processes

Remuneration
and employee benefits

Work performance management
Employee

Employment Law
Consultancy
Contact
E – mail: info@rychetsky.eu
Tel.: +420 775 440 094
IČO: 28207572. Company registered by the Municipal Court in Prague, Section C, File 132764
Rychetsky&Partners 2023